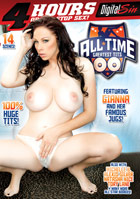 All Time Greatest Tits - 4 Stunden
DVD Article Number: 23200

Studio: Digital Sin

Date added: 05/19/2010
Release Year: 2010
Production Year: 2010
Languages: English
Running Time: 4:00

Category: 4 hour movies, Best of ... Sampler, Big Tits

Cast: Katy Parker, Nataly Brown, Sabrina Rose, Laura, Natasha Nice, Devon Lee, Reina Leone, Tory Lane, Aspen Stevens, Carly Kaleb, Pandora Dreams, Michelle B, Jessica Moore, Alexis Silver, Gianna With Nick Long, Roly Reeves, David Perry, Brother Love, Jack Lawrence, Mr Pete, Lee Stone, Mark Ashley, Chris Charming, Scott Nails, Jean Yves Le Castel, Johnny Sins

Description:

Gianna, Alexis Silver, Jessica Moore, Tory Lane, Natasha Nice, Devon Lee, and more! They've got the best boobies in the biz, so you can be sure these next 4 hours will be full of jiggly juggly fun! Slap 'em, lick 'em, squeeze 'em, or fuck 'em ` it doesn't matter, because these luscious racks are sure to satisfy your craving for some great tits!




Write a review for All Time Greatest Tits - 4 Stunden now and win a € 100 gift certificate each month!